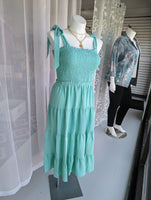 Style doesn't end at a size 10
I remember, as a girl, I'd be  sitting in the back row of church drawing sketches of the outfits I would own as an adult.  Most included frills and ruffles.  My fashion bug hit young and I would steal my big sister's Prom dresses and try to recreate the most recent Madonna look.
Naturally, I have loved the direction fashion has been going.  Small boutiques are popping up everywhere allowing an individual to uniquely express their personality.  Yet I walk by a store and think, "I wish that came in my size and I wish I could afford it."  Clothing might be my first passion, but food is a close second.  My body was not meant to be a size 2, and I'm truly OK with it.  So, here I hope to create a place for all those cheese loving ladies.
Who Is Becky Anyway?
Hey, I'm Sarah (yup you read that correctly) owner/hobiest of Becky's Closet. Growing up as one of FIVE girls in the family, it was a given that hand-me-downs were a way of life and my closet is your closet. Thankfully my younger sister had awesome taste and the patients of a Saint. I hope you Love and enjoy the unique hand curated pieces I have to offer.
As a fellow "big girl" I strive to pick fashionable pieces that were cut to fit a curvy body. Most items I own myself.